Visit Stratford
CT Attractions
Stratford is a very historical town that grew by leaps and bounds during the 1600's.
We spend a lot of time in Stratford, and we'll be adding more pages.
8-14-05 Riding in the Rain in Stratford CT
We just got back from a very interesting experience riding the motorcyle in the rain. The hubby wanted to get out of the house for awhile, so we headed down River Rd to Stratford, all the way to the ocean. The first picture I took is of the former location of the beautiful Pine Rock restaurant.
They have razed the whole area. What they will build there I do not know. But something is in the works. The Pine Rock restaurant has been there for years and years and used to have an amusement park there. We went there once to photograph a wedding. Maybe they will rebuild it? See the new Crescent Village Condos
The next picture I got that ... ahem.... that came out clear was of an entrance by the Stratford Train Station. Actually this is not the only Stratford Train Station entrance, there is a restaurant here called the Shell Station restaurant. It appears the Shell Station restaurant may have been built in the old Stratford train station..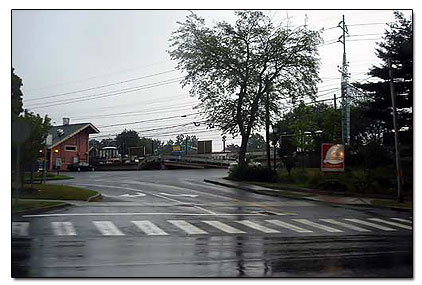 I was able to grab this photo before we went under the tracks. We are on Stratford's Main St. heading south. Welcome to Stratford is painted on both sides of the train overpass. The sign for the entrance to the train staion is to the left of the tracks after we go under them...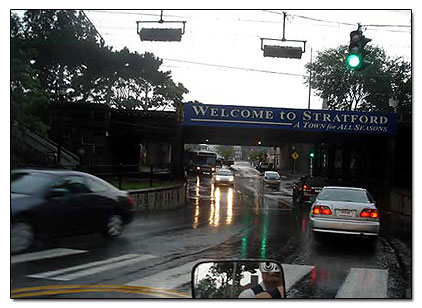 After we passed the tracks the rain started pouring, and didn't stop till we reached our Dunkin Donuts stop at Lordship Blvd. We always stop and get a Hazelnut coffee and take it to the beach with us. At this point we were both soaked from the rain, and just looked at each other and laughed. It was so totally different from yesterday's trip... It started pouring
We took our coffee and drove to the beach. The beach we go to is in Lordship. We have been coming here for years. Since we got the motorcycle we come here at least 3 times a week. It is all maintained by the Lordship residents and there is no place to park. See the sign, it says No Parking. This view is looking West toward Stratford's Seawall Overlook. Off in the distance, that little speck on the tip is Marnicks...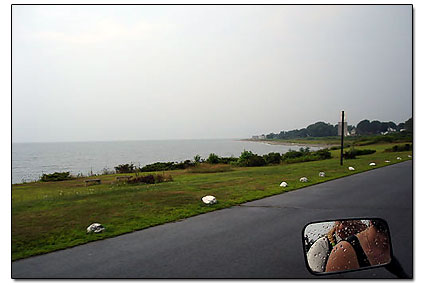 But we have secret spot, and it's easy to get to by motorcycle. We just follow a path in the east corner of this road. Okay let's follow the path down to our secret beachspot. There are honeysuckle bushes to the left, and I see that the log Vlad put there for me to sit on last week is still there. That means the tides have not been very high. In fact it is almost high tide right now. We have been here when it was low tide and there is nothing but big rocks, so people do not swim here... Let's see what's at the beach
Suddenly we heard more thunder, and looked at each other and said, "Oh...oh." We thought we just better head back, before we caught in another one. At the tip of that penninsula is Marnick's Motel and Restaurant, and the popular Long Beach Skateland. To the east of this spot is the Stratford Lighthouse.
Places to Go in Stratford

Seawall Overlook - A very scenic location located near Stratford's Long Beach.
Stratford Skating Rink - Located at the Seawall Outlook, a fun place to spend during the winter season.
Stratford CT Lighthouse - South of the Stratford beaches, but not a tourist location.
Marnick's Motel and Restaurant - A landmark restaurant and motel located on the shoreline at the Seawall Outlook.
Off the Wall Restaurant - A new restaurant that opened at the Seawall Outlook. Specializing in seafood dishes, upscale dining
Knapp's Landing CT - Avery popular lobster shoreline restaurant. Stratford's best kept secret.
Harborside Restaurant - a very scenic and popular place to dine. Harborside is located at the mouth of the Housatonic River.
Boothe Memorial Park - Very historical with a museum, park, playground, picnic area, and rose garden.
---
Cool Stuff
See a list of
hotels and motels in CT with Jacuzzis and Fireplaces
Cooltan Tan Through Shirts and Swimwear
- Get a tan through your clothes! Shirts, shorts, and swimwear. Great for wash and go traveling.
Alpaca Blanket
- This has got to be the warmest, softest blanket I have ever felt, and great for winter travel, especially in New England!
Child Travel Tips
- How to keep the kids busy while traveling.
Travel Scrapbook
- Make a scrapbook while on vaction.
Connecticut Peapod
- Save time and money, grocery shop online in Connecticut. Peapod delivers groceries right to your door at the time that you select.
Stop and Shop CT Peapod
- Get $10 in FREE groceries in CT. Order anytime, day or night 24/7.