The Lighthouse
New London CT
Mystic CT Visit historical old Mystic for a great weekend getaway. Take the Mystic River cruise.

Connecticut Camping
Lots of campgrounds to choose from. Have fun!

Connecticut Hotels Grab a reservation here. Easy and secure interface.

CT Lighthouses
View the different types and where they are located.

Cooltan Clothes Get a tan through your clothes. Great for vacations, golfing, and other outdoor sports
Travel Scrapbook Make a scrapbook while you travel on vacation.
These are just a few quick pictures of the New London lighthouse as we were passing by.
You can't really get a good view from the road, even though you can see this lighthouse at a distance.
It is all painted white with black at the top.
The first picture I took as we were approaching the lighthouse. I can't verify this, but I think the Marriott Hotel is right by the lighthouse.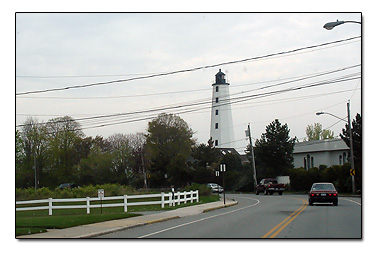 Driving Directions:
When we leave Ocean Beach Park, we continue through the flashing light till the road deadends. Then we make a left and follow this very scenic road ( Pequot Ave.) to go eat at Fred's Shanty.
Other Places to Visit in New London CT:
Golden Street Gallery - 94 Golden St New London, CT 06320 (860) 444-0659
Burnished Chariot Gallery - 166 State St New London, CT 06320 (860) 439-1162
Alva Gallery - 54 State St New London, CT 06320 (860) 437-8664
Empress of Art - 66 Bank St New London, CT 06320 (860) 447-9170
Working Artists Studio and Cafe - 86 Bank St New London, CT 06320 (860) 447-3028
Lyman Allyn Satellite Gallery - 302 State St New London, CT 06320 (860) 440-3304
Robert Mills US Custom House - 150 Bank St New London, CT 06320 (860) 447-2501
Hempsted House Museum - 11 Hempstead St New London, CT 06320 (860) 443-7749
Secret Theater Cinema - 128 State St New London, CT 06320 (860) 442-2787
Eugene O'Neil Theatre - 305 Great Neck Rd Waterford, CT 06385 (860) 443-5378
Eolia Mansion - Great Neck Rd Waterford, CT 06385
New London Ferry - 2 Ferry St (860) 443-5281
Romantic Restaurant - Thyme and Place 403 Williams St (860) 447-2764
Seafood Restaurant - Captain Scott's Lobster Dock 80 Hamilton St (860) 439-1741
---