Charlestown RI Motels
Rhode Island
We like to know what the motel is going to look like before we make reservations. How about you?
Here's some pictures of motels you can stay when you are traveling through Charlestown, RI.
I took these pictures as we were traveling by in our car on Route 1. Motels such as:
Krystal Penguin Motel

Krystal Penguin Motel
5399 Post Rd. Tel. 401-364-0062
Willows Motel Resort

Willows Motel Resort

looks real nice, with a large stone fireplace and apparently a pond or lake in back with a large deck. We would love to stay here.
Here's a picture of the Willows Motel in Charlestown RI.The sign says, Willows Motel Resort, Breakfast Dinner Mini, Clambake, Restaurant
Willows Motel & Restaurant - 5310 Post Rd., Tel. 401-364-7727
Also located on Hwy. Route 1
Ambassador Motel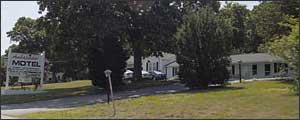 The Ambassador Motel has reopened with new owners. The sign says, "Phones, electric heat, air conditioning, color cable TV. VACANCY Open, New Owners.

Unfortunately, I was unable to find a phone number for the place, but it is located in the same general area as the rest of these motels on Route 1. Looks like a nice, cozy place to stay.
Travel Tel Motel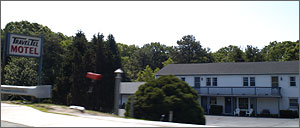 Here's another motel on Hwy Route 1 on the way to Charlestown, in Westerly, RI. It's called the Travel Tel Motel.
Travel Tel Motel
Post Rd. Westerly, RI Tel. 401-596-7475
Ocean View Motor Inn
We saw the Ocean View motel sign, but didn't see the motel. It must be sitting up on the hill behind the white building to the right? It's blue and is partially hidden by the trees? Surely this white building in the left picture is not the motel.

The white buiding in the right picture appears to be a restaurant, but there was no sign. The small gazebo next to it is the Motel Office.
We believe in the right picture the Ocean View Motel is the building in the right corner that is hidden by the trees.
Ocean View Motor Inn - 5407 Post Rd. Tel. 401-364-0080
More Motels to Stay in Charlestown, RI
General Stanton Inn, 4115A Old Post Rd. Tel. 401-364-8888
Land Harbor Motor Inn, Scenic Rt. 1, Tel. 401-364-0080
Ninigret Inn, 36 Prosser Trail, Tel. 401-364-0047
Ocean Aire Motel, 4314 Old Post Rd., Tel. 401-364-6235
Phil & Ann's Sunset Motel, 4040 Old Post Rd., Tel. 401-364-3321 (There's a new Dunkin Donuts next to this one and that huge Sunday flea market is right next door.)
Sea View Motor Court, 3865 Old Post Rd., Tel. 401-364-6212
Summer House, School House Rd., Tel. 401-364-6926
There are plenty of motels along
Route 1
to stay, but people mostly camp at the campground because they like camping. Plus they also have a beach there too, and the price was raised to $20.00 a night on the weekend. Some people RV it at the
Charlestown Breachway
---